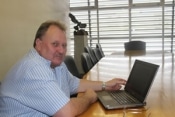 Young Welder Competition Changes Shape Now To Be Called SAIW Youth Welding Challenge
The Young Welder of the Year, the biennial welding industry youth welding competition hosted by the SAIW, will, in future, be known as the SAIW Youth Welding Challenge. It will remain a biennial event. This is a result of an overhauling by WorldSkills South Africa of its welding competition from which the winner gets sent to the International WordSkills event.
One of the advantages of the new system is that the first stages of the competition will take the form of a countrywide series of regional competitions organised by the Technical Vocational Education and Training Colleges (TVETS) and the Further Education Training Colleges (FETS).
From these regional competitions about 20 of the best performing young welders will participate in the SAIW Youth Welding Challenge over five days at the SAIW premises. The top three candidates then qualify for the WorldSkills SA national competition and the winner of that represents South Africa in the welding section of the international WorldSkills competition.
This year the regional competitions will be starting in April and the SAIW Youth Welding Challenge will be held from 21-25 November. The WorldSkills SA competition will take place at the ICC in Durban from 16-18 January 2017 and the WorldSkills International competition is in Abu Dhabi from 14-19 October 2017.
The SAIW's Etienne Nell, appointed by WorldSkills SA as the South African National Expert and who has been the coordinator of the Young Welder of the Year competition since its inception, has been given the task of coordinating the entire new process.
"I am pleased with the changes," says Nell. "Because of the increased emphasis on regional skills development in the new competition structure, more young welders will have the opportunity to demonstrate their skills, which is excellent for the welding industry as a whole in South Africa."
He adds that the new format also widens the net and will attract significantly more young welders to the competition. "This will inevitably increase the chances of South Africa performing better at the International WordSkills competition," Nell says.
All stages of the competition will continue to test the welders in the three categories of carbon steel, stainless steel and aluminium with the welding projects now based on the WorldSkills 2015 Sao Paolo project structure. The three winners of the SAIW Youth welding Challenge and the winner and runner-up of the local Worskills SA competition will win sponsored cash prizes.