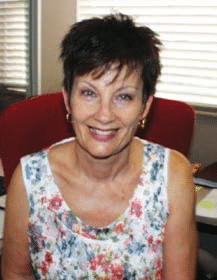 Totsiens Martie
Martie Beetge has retired from the SAIW after an amazing 25 years at the Institute!
In her own words: "I started at the SAIW in January 1992 as a temporary receptionist when the then receptionist, Jackie de la Cruz, was tragically killed in a shooting accident. I was permanently appointed on 1 November 1993 and was transferred to the training department as the NDT Training administrator. I was later appointed as the examinations administrator and finally became the certification administrator for the SAIW," she says.
Martie was liked by all and sundry. She quietly did what had to be done, always retaining her sense of humour. "I tried to establish good relationships with everyone including the students who, with many of them, I have lasting friendships," she says.
Martie saw so many students enrol as "apprentices" and then complete their studies and become technicians, inspectors, specialists and technologists. "I enjoyed sharing in their achievements, but felt their pain when they were unsuccessful." She says there are so many things she wants to do now that she has time to herself including spending more time with her grandchildren, kids and husband Ben.
"I enjoyed my time at the SAIW, there were tough times, but there were mostly happy and enjoyable times. Would I want it any different if I could choose again….NO!
Totsiens Martie. We'll miss you!!