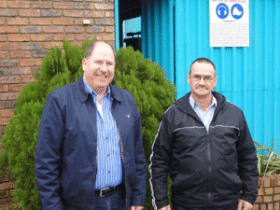 Smaller companies on accreditation roll
Smaller companies on accreditation roll
With more than 30 companies already accredited according to the ISO 3834 standard via the Southern African Institute of Welding's (SAIW) Welding Fabricators Certification Scheme and more than that number in the process of being accredited, one thing has become clear: smaller companies are realising the benefits of accreditation in making it easier for them to do business both locally and abroad.
One such company is Tradefin Engineering a fabricator of pressure vessels and heat exchangers which has been accredited according to the requirements of ISO 3834 Part 2 – the comprehensive quality requirement.
SAIW's Sean Blake, says that Tradefin's welding coordination activities are run by a highly specialised team led by John Naughton and Rene Schenk.
"Most of our clients are in the petrochemical industry and, of course, this includes Sasol for whom we do a lot of work,' says Schenk.
He adds that being accredited by the SAIW is a very important step as it gives assurance to Tradefin's clients that the work they are producing is world-class. "Even if you have worked successfully with a client for a long time, it is reassuring for us to know that our procedures and ultimate product are in line with world standards. And, of course, it is reassuring to our clients that the work they have been happy with over the years is not only according to their judgement, but according to internationally accepted global standards,' he says.
Blake said that he was very impressed by the dedication of the Tradefin organisation and especially with the excellence of their quality control and documentation. "This is a professional company, which thoroughly deserves its ISO 3834 status," he says.
SAIW executive director, Jim Guild, continues to be encouraged by the amount of smaller companies which are interested in ISO 3834 accreditation. "At the beginning of the process, when we launched the scheme, smaller companies seemed reluctant to participate, as though such important accreditation was meant only for the bigger and better-known organisations. But all the time I have said how beneficial this accreditation is for everyone and I am pleased that this advice is being followed," he says.
Meanwhile, of course, the larger organisations continue to see the benefits of ISO 3834 accreditation. Recently Sasol Synfuels had its welding management processes accredited.
Blake explains: "In essence, Sasol Synfuels undertakes maintenance work on their own plant. Sasol will plan the work, implement weld procedures and undertake welder qualifications – all of which is tightly controlled. However, the actual welding fabrication is sub-contracted to third parties. This gives Sasol assurance that the work being undertaken is of the highest quality and is in line with the ISO 3834 requirements. I think it is also an important statement to industry that Sasol believes in the benefits of ISO 3834 and is committed to implementing this standard in the fabrication industry."
Anyone interested in ISO 3834 accreditation should phone Sean Blake on 011 298 21OO.