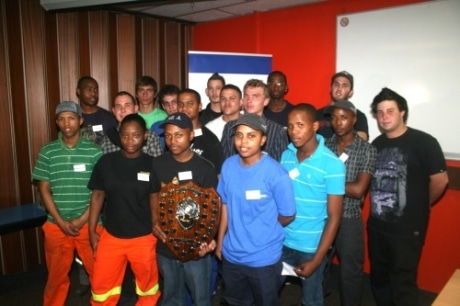 SA's Top Young Welder Crowned
03 November 2010
East Cape Midlands FET College International Welder in training Chris van Zijl has won the Young Welder of the Year 2010 competition and will represent South Africa at the 41st WorldSkills Competition to be held in London in October 2011. He also won the Carbon Steel Category by achieving the most marks on the pressure vessel.
West Coast FET College's Houston Isaacs, who came second in the pressure vessel section and won both the Stainless Steel and Aluminium categories, was the overall runner-up.
The competition, which was held from 4th – 8th October 2010, is run biennially by the Southern African Institute of Welding in Johannesburg.
SAIW training manager, Etienne Nell, says that the standard was exceptionally high this year compared to previous competitions. "We made some changes to the entry conditions which resulted in a record number of entries from almost all regions in the country. After a careful selection process, 17 competitors, including two young women, took part in the finals. I am pleased to say that we witnessed the highest quality of welding in the history of the competition," Nell says.
The chairperson of the judging panel, Eskom's Morris Maroga, concurred. "I was very pleased by the excellent overall standard, which, I believe, augurs well for the future of South African welding. I encourage our youth to take advantage of the wonderful career opportunities that welding offers," he said.
The competitors had to show mastery in four welding processes – shielded metal arc welding (SMAW), gas tungsten arc welding (GTAW), gas metal arc welding (GMAW) and flux-cored arc welding (FCAW) – on carbon steel, stainless steel and aluminium.
The fact that both the winner and runner-up came from FETs, as in many previous years, is significant, says Nell, because these FET institutions are accredited by the SAIW as authorized training bodies and use internationally approved training methods.
Van Zijl said he was delighted about winning. "I grew up on a farm and helped my father weld from when I was very young. He taught me to do everything in life to the best of my ability and I am extremely proud to be the top young welder in the country," he said.
The sponsors of the 2010 competition were: Abicor Binzel, Afrox, Aluminium Federation of Southern Africa, Air Products South Africa, Arcelor Mittal, Bohler welding, ESAB, Goscor Arc Welding Solutions, Hulamin, Lincoln Electric Company, Macsteel VRN Steel, Sassda, S.A. Welding and Welding Alloys South Africa. The main prize sponsor was merSETA.