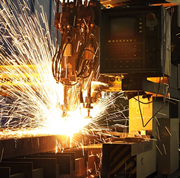 SAIW REOPENS ITS DOORS & MIND TO A BRAVE NEW DIRECTION
The Southern African Institute of Welding (SAIW) will officially open its practical welding school on Monday, 8th June and will be accepting all other students from the 15th June 2020. This follows its shutdown in compliance with COVID-19 lockdown regulations.
Executive Director John Tarboton says; "We are delighted to re-open as the SAIW is built for learning and has felt very empty without the lifeblood of our institution, our students, passing through the institute's doors on a daily basis. We therefore look forward to welcoming our first batch of learners, albeit it under stringent health and safety measures."
The SAIW has spent the past few weeks undertaking a comprehensive Risk Assessment exercise and has subsequently completed the required deep cleaning and sanitisation processes prior to opening and instituted a number of strict protocols to ensure a safe learning environment for students.
These include (but are not limited to): The implementation of Hygiene Standards, Physical Distancing measures, the supply of Personal Protective Equipment i.e. Masks, Face Shields and Latex Gloves as well as Symptom and Temperature Screening and a sign-in declaration at reception. Health and Safety Training will also be conducted for staff, students and visitors entering the SAIW and instructive videos will also be aired on the television screens.
eLearning Approach
Realising that the COVID-19 pandemic has changed the landscape of learning forever, the SAIW will also immediately launch live training for students located in Durban and Cape Town who will attend online lectures at its offices in those cities.
The Institute's longer term plan is to launch a fully operational Online Learning School by 2021 that will allow for a blended learning approach combining on site and online courses, where applicable, to be completed in a student's own time.
Tarboton comments; "Without meaning to sound flippant, we have definitely embraced the mantra of "don't ever let a good crisis go to waste" and have used the COVID-19 outbreak to steer our thinking and planning in a brave new direction. We realise the enormous challenges ahead but we're also excited to chart a new course for the SAIW that embraces the concept of online learning and enhanced student engagement".
Further details on the roll out of the online offering will be announced in due course.
For more information on the opening of the SAIW please email info@saiw.co.za or call Liz Berry on (084) 446-0629.