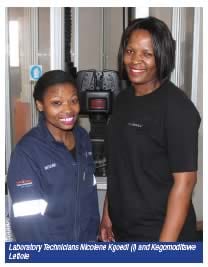 SAIW Notice Board
SAIW Material Testing Lab
While the SAIW's certification, consultancy and general industry support services have for some time been in high demand, the Institute reports that the external demand for its on-site Material Testing Laboratory is growing rapidly.
 SAIW executive director, Sean Blake explains that the Lab is fully equipped to perform mechanical and non-destructive testing on weld samples, either welded in the welding school or during the performance of welding procedure qualifications in industry.
"But the Lab increasingly supports the consulting services offered by the SAIW, which include failure analysis, welding related research and development, welding consumable evaluation, weld procedure qualification, welder qualification, post weld heat treatment and positive material identification," he says.
He adds that it is important that welding and NDT industries know that the SAIW offers this important service, which includes the following tests that are all performed to international standards: