SAIW Foundation Moves with the Times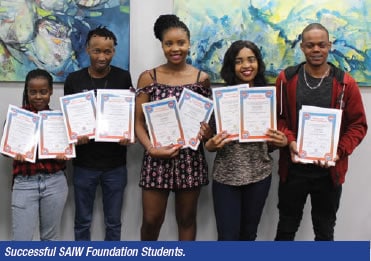 The SAIW Foundation, a company which the Southern African Institute of Welding started as a public benefit organisation to provide training to disadvantaged individuals in a wide range of areas including welding and inspection, the training of trainers for welding and related technologies and more, is changing with the times.
In the past, learners recruited by the SAIW Foundation were placed in an International Institute of Welding (IIW) programme with the aim that they would exit with an IIW International welder diploma.
"This has been very successful," says SAIW's Etienne Nell, "but with the advent of the dual training QCTO system, a Dept. of Higher Education and Training initiative, we are changing the training format."
In essence, explains Nell, future SAIW Foundation training will align itself with the Quality Council for Trades and Occupations (QCTO) Artisan Welder Curriculum which is aimed at producing: a skilled and capable welding workforce to support economic growth; an increased availability of intermediate welding skills and an increased delivery of properly qualified artisan welders.
This system, unlike the old one, reflects occupational competence; new, industry-designed curricula; trade theory, simulated practice and work experience tightly interwoven. All students will now get practical training and work experience with employers selecting and managing their own apprentices.
In the latest project Arcelor Mittal S.A. (AMSA) has committed to appoint 15 apprentices signing an MOU with the SAIW, which will provide all the theoretical and practical training over the next three years.
AMSA will supply all workplace learning while Nell will oversee overall quality assurance.
Theoretical and Practical sections of the training will be funded by the SAIW Foundation and AMSA have agreed to donate all the steel required for the project.
Nell says that this is a pilot project and that the SAIW are looking for other companies that would be interested in this new and exciting way of training welders. "This new system will certainly make a palpable difference to the quality of graduates and of the welding industry as a whole. I urge other companies to take a leaf out of AMSA's book and initiate training in this manner in conjunction with the SAIW," he says.
Nell adds that the new system is a result of the new-look Dept. of Higher Education and Training which deserves credit for what they are doing for skills development in South Africa. "Minister Pandor has been most effective in ensuring that the nature of training in this country emphasises quality and not quantity and in pushing the Setas and industry at large to do their best to  ensure that skills
Successful SAIW Foundation Students. training – a national priority – is of the highest quality.