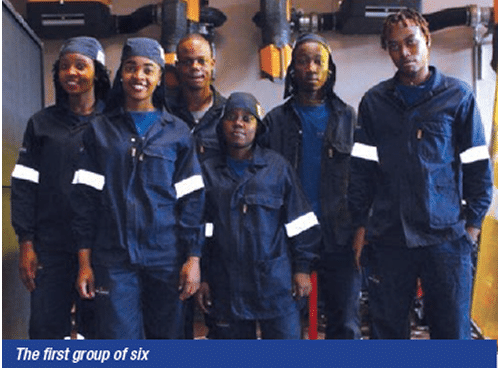 SAIW Foundation and ArcelorMittal in Education Partnership
We are very pleased to have entered into an important partnership with ArcelorMittal South Africa (AMSA) Science Centre in Welding to train six Grade 12 students. Part of the partnership agreement is that ArcelorMittal will provide material for training, funding and experiential training following the International Welder training at SAIW.
The six selected learners are Mohale Albert Mohale, Tebello Radebe, Bonkolo Luvuyo, Zelda Khumalo, Rose Mfabane and Princess Mpembe. (See pic)
ArcelorMittal Science Centre, Sebokeng
This is one of the three Science Centres which are located close to the company's operations in Vanderbijlpark, Newcastle and Saldanha respectively. These comprise ArcelorMittal South Africa's flagship corporate social investment project – a perfect example of a public private partnership that is addressing both a national development challenge and a serious and urgent business need. At the same time, this was a way for ArcelorMittal South Africa to "grow its own timber"
by developing a pipeline of learners studying in engineering and related fields and who could potentially be future employees.
Sean Blake SAIW executive director thanked AMSA for their longstanding help over the years and looks forward to reciprocating in this most valuable way.