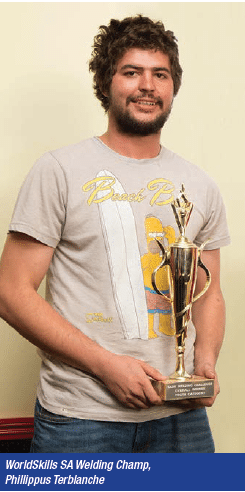 Phillip off to Abu Dhabi
03 April 2017
Phillippus Terblanche was the winner in the Welding category at the WorldSkillsSA competition, which was held at the Durban ICC from the 14th to 16th of February. He will represent South Africa at the International WorldSkills Competition in Abu Dhabi later this year.
During November 2016, SAIW held the SAIW Welding Challenge where 20 competitors from industry, private and public training colleges competed in the SAIW Youth Welding Challenge. The three top performers from this competition went through to the WorldSkillsSA event to compete as the winner of WorldSkillsSA in Welding and join the winners of the other 21 skill areas to compete in the International competition.
All 3 competitors upped their game after hard work and practice in the preceding months in preparation for this competition. SAIW's Etienne Nell says he is very pleased with Phillip's progress since winning the SAIW Youth Welding Challenge. At Abu Dhabi, Phillip will be competing against the best young welders in the world and he needed to put in a lot of effort to raise his own personal welding bar. "I commend him for doing this – he did very well at the WorldSkillsSA competition raising his performance by 60% – and I believe that he will be an excellent representative of South Africa's young welding community" says Nel. The hard work is not over for Phillip as he will need to raise his bar even further to compete in the International competition. Phillip will be entering an intensive training programme to improve his skill between now and October when he will go to Abu Dhabi to compete in WorldSkills. Phillip will also undergo an intensive one month training programme for the welding of aluminium in preparation for Abu Dhabi. Nell is certain that if Phillip can improve as much as he improved following the SAIW Welding Challenge, he will do well in Abu Dhabi and bring home a medal of excellence, which will be a first for South African welding.
Phillip is a product of ArcelorMittal's training school in Vanderbijlpark, which is working in partnership with SAIW to improve the skills level in South Africa. Phillip was well supported by ArcelorMittal during the competition and his instructor, Peet Lottering was in attendance at the event. Lottering says "we are proud of Phillips's achievements and believe he will be an excellent ambassador for welding as a career."
The WorldSkillsSA welding competition, which ran in accordance with WorldSkills marking sheets, was assessed by regional experts, as well as past SAIW Young Welder of the Year winners, Jaco van Deventer and Houston Isaacs.
Nell thanked the Department of Higher Education and WorldSkillsSA for a well-run competition and for supporting welding as a skill. He also paid special tribute to both Lincoln Electric and Afrox for their support and sponsorship which aided in the smooth running of the competition. Lincoln Electric went the extra mile and flew in the welding equipment for the competition, which will also be the equipment to be used by competitors in Abu Dhabi.