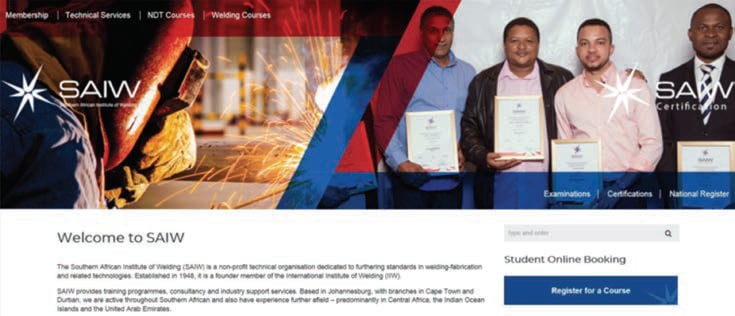 Online Student Management System
SAIW's quest to use technology to make life easier
They say change is as good as a holiday, well in that case, look forward to an extended 2018 holiday!
As part of SAIW's 70 years anniversary, both SAIW and SAIW Certification have decided to embrace the digital age and implement an Online Student Management system (OSMS). This forms part of a long-term strategy to provide an innovative, contemporary, paperless, industry-focussed Training (SAIW) and Qualification / Certification (SAIW Certification) digital platform.
Phase 1 of this ambitious long-term project, kicked off in April 2018 with an invitation to all current students to log onto the system and confirm their personal information and upload any pertinent information such as ID's, secondary and tertiary qualifications, CV's, photographs etc. that might be required during course bookings; students are prompted by the system as to which records to upload when.
Initial access for students already with student numbers requires that you enter your student number as username (top block) followed by your ID number (second block) which is your default
password; no spaces to be used in either of these parameters.
New students are encouraged to register via the quick registration process which is easy to follow; just keep your cell phone or email account close-by since confirmation messages and links requiring validation shall be issued as you make progress.
Tired of losing records, last minute rush to complete your experience logbook, not receiving your confirmation, proof of training record or examination results?
The OSMS intends to resolve all of these issues by:
Step 1
Placing the student in control of the primary communication channel i.e. the student shall be able to modify his / her email address, cell phone number or postal address to ensure that communication, in this sequence, is possible and maintained. Therefore communication shall primarily be limited to emails and SMS's, with pdf documents issued via emails and SMS messages referring the student to the relevant email, sent at pre-determined intervals following completion of the various processes.
Step 2
The student portal shall serve as your record repository meaning that not only the uploaded information, but also the deliverables produced as part of the training, examination or certification shall be stored in this portal, indefinitely. Access to any of the documents at any time shall therefore be possible, should the individual have the relevant student number, password or ID number. So it is critical that individuals record these credentials when initially registering as students. Historic records, prior to 2018, shall initially be entered as part of  the recertification process, with records of non-certified courses initially only available upon request.
Step 3
Deliverables and delivery time is strictly controlled and managed via this system and any delays are immediately communicated to the relevant manager to address the issue. Issue of training documents, examination results and certification should therefore be predetermined and monitored.
Step 4
Later phases shall introduce surveillance activities which include online logbooks that should be completed at regular intervals, vision acuity records that have to be updated annually and even changes in personal detail. Students shall receive reminders to address annual surveillance issues as well as reminders for certification / renewal / recertification as stipulated in the relevant reference documents.
During phase 1, students will be able to upload personal details apply and book for training and initial examinations, and receive deliverables upon completion of the relevant process, for  example, proof of training document shall be automatically issued once training is successfully completed, followed by the examination results upon completion of the relevant qualification examination.
Please keep in mind that deliverables shall only be issued once proof of payment is received and confirmed. The use of order numbers shall allow the student access to training, examination
of certification, but all deliverables shall be restricted until actual payment is received and confirmed.
Company training officers / appointed Level 3 personnel or other responsible personnel shall be registered, during a later phase, as 'super-users' and shall be granted access to (pending students permission) all employed student's / candidate's portals linked to a specific company. This should facilitate the management of pertinent deliverables such as proof of training  documents, examination results and certificates issued which are required by the company as part of their quality management system or written practice.
Students or companies not having access to digital devices or the internet, need not worry, since the system still facilitates manual bookings and the issue of any deliverables as per the current route.
The normal process of booking shall be followed with the relevant administrator booking you onto the system and managing any interaction within the OSMS on your behalf.
'With great change comes great opportunity'
Students are encouraged to participate during each phase and to send their suggestions, comments, complaints or compliments to the following address: Quality@SAIW.co.za. These inputs shall be used to continuously improve the system and to make the interaction even more satisfying to you, our most valued customer.
PLEASE NOTE: Since the online platform is governed by the Protection of Personal Information (POPI) Act, both access and uploaded records are controlled and the content is handled with absolute confidentiality.