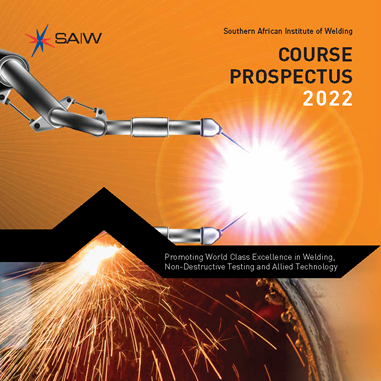 With the end of the year fast approaching this is often a daunting time for students with many life impacting questions to be answered and an array of options available. All of which make it a challenge for prospective students to plan their futures and choose the correct training course for 2022 with a view to achieving a lucrative and rewarding career.
With this in mind, the Southern Africa Institute of Welding (SAIW) has launched its 2022 Prospectus which it has spent months fine tuning to ensure that it is more user friendly and career orientated than ever before. SAIW Executive Director John Tarboton explains; "We have designed the 2022 Prospectus as a career guide rather than a course guide. In line with this, we have made a conscious effort to simplify the write-ups on the welding section as simple and clear as possible, while still providing a full overview of the courses we offer, their dates and times throughout the year as well as their cost.
"In addition, we have included a decision tree style infographic that allows students to take a high level look at the various career paths open to them, using a variety of Yes/No branches. This is designed to guide prospective students into the correct area of study. The SAIW has also designed a Career Roadmap which unpacks how courses and experience equip students for careers in inspection, including the new Certified Level 2 Inspector and Certified Level 3 Inspector, as well as a career as an SAQCC-IPE (Inspector of Pressure Equipment) or SAQCC-CP (Competent Persons).
New pricing model
Another shift has seen a change in the pricing model of the Institute's practical welding courses so that for each successive week completed in a course (in the same process and level), a 5% discount applies on the previous week. This provides an incentive for further study and rewards long-term welding students. Other bonus incentives that the SAIW now offers include the fact that students who complete the International Welder qualification (process in fillet, plate and pipe), will receive a bonus Robotic Welder course for free.
Tarboton says that overall, the Prospectus forms part of a key growth strategy for the SAIW in 2022 starting in its practical welding school. "We see a key role for certified welders with in-demand skills, who can attract good wages anywhere in the world. We are also putting a programme together combining open days with bursary opportunity to promote awareness of the value of SAIW's NDT and IIW welding coordination programmes.
How can SAIW power your career

How can SAIW Power Your Career