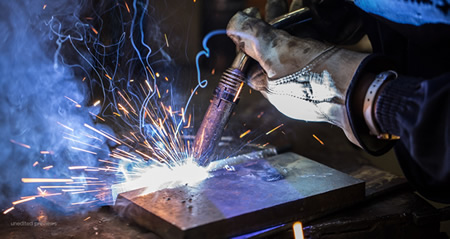 South African welders remain unemployed and under pressure to find work; this despite a global demand for the skill and a firm commitment from the South African government to spend millions on public work projects specific to the power generation and petrochemical sectors, positions which require certified welding skills.
Fine tuning the complexities in bridging the current unemployment gap and securing the future of welding, the SAIW is set to leapfrog the global pandemic lockdown and play a positive role in employment and skills upliftment. With the opportunity for local fabricators and manufacturers to gain skills value, the SAIW is launching its progressive online training programs, introducing a new Prospectus App due to launch to market by the end of November 2020, and developing a Welders Register available to SAIW Members,  which will match welder skills and job opportunities.
SAIW Business Development Manager Etienne Nell explains; "There is a demand for welding skills in South Africa, yet locally, many South African training facilities only offer basic welder training resulting in a lack of properly qualified prospective employees. We also see welder certifications become outdated or the welder certification does not meet industry requirements especially now with more exotic materials being used in fabrication, also training providers are not familiar with the requirements of the pressure equipment regulations (PER). Additionally, current school leavers are unaware of the potential for long term welding employment and business entrepreneurship within this informal sector.
"As a non-profit and non-governmental organisation which addresses these core challenges, the SAIW has launched a series of progressive tailor-made training programs specific to manufacturers and fabricators, together with a comprehensive 28-week International Institute of Welding (IIW)  course, which includes the five different welding processes.  We also train welders to meet sector and project specifications and collaborate with fabricators on-site to advise where we see a need for upskilling, in response the majority of fabricators have reported as much as a 20% increase in productivity of their equipment and improved quality and hourly output of their welders."
Welder certification and train the trainer opportunities
For first-time career welders, the QCTO  3-year internationally-recognised training program, registered through the South African Qualifications Authority (SAQA), is comparative to a University degree and is based on the dual system, a system widely used with the USA, Germany and Switzerland.
The Department of Higher Education and Training has also embarked on establishing Centers of Specialization (CoS) where the dual system in South Africa is being piloted and therefore capacity building our TVET Colleges.
Train the trainer opportunity is imminent with Mozambique's R128 billion oil and gas fabrication facility which will require that for every South African welder being employed the Fabricator needs to train 10 local welders from within the local community.
Companies may partner with SAIW to make use of its specialist training services which align with the International Institute of Welders (IIW) training guidelines. Uganda has partnered with the SAIW in this regard, to become registered as an approved training body to roll out specialist training programs in their country.
New app means welder connectivity
Mobile connectivity is also set to fast track the SAIW's training contribution and welding education process whereby its 200-page Prospectus document will be converted into an easily navigated communication tool where key features can be accessed via mobile phones.
Offering interactive communications for welders and empowering career development guidelines, the App enables quick access to register.  Welders will be able to enter their welding credentials via the App, should they not be SAIW certified they may be required to complete a certification of competency test or take advantage of the SAIW's short upskilling courses.
Given that there are a number of career paths and associated courses in practical welding, welding coordination, welding inspection, competent persons and Non-destructive Testing. Once launched, the app will seek to navigate these course requirements by clearly show a future career path that these courses will allow students to follow. Alternatively, one can enter one's current level of qualification and experience and the App will determine course options and career path possibilities based on the course entry requirements.
Welder Register: Will the SAIW help me find a job?
The SAIW is currently compiling a database of qualified welders who, once registered according to confirmed credentials, will be made visible to SAIW fabricator members looking to either recruit qualified welders or invite them for an interview together with undertaking the mandatory Code Certification test.
Any welder who is certified by the SAIW or has successfully undertaken the Code certification test may upload their information onto the welder register, hereby they advertise themselves for job opportunities offered by SAIW members.  Member manufacturers and fabricators may also send apprentices on the SAIW training and certification programs.
Click here to complete your application for the SAIW welder register where you will also be asked to upload your CV and welding certification as part of the application process. For any other enquiries please email info@saiw.co.za