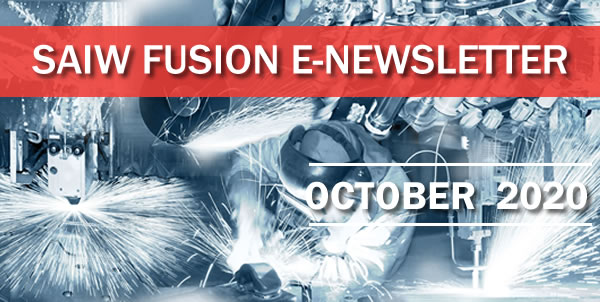 COULD LOCAL BE LEKKER FOR THE GROWTH OF SA WELDING?
Could local be lekker for the growth of the South African manufacturing and fabrication sectors and as a result, bring the need for homegrown welding skills into sharp focus? That's the question on many people's lips as a result of the recently unveiled economic reconstruction and recovery plan in parliament where government announced it was embarking on a massive localisation drive
Read More ›
BRIDGING THE UNEMPLOYMENT GAP TO SECURE THE FUTURE OF WELDING
South African welders remain unemployed and under pressure to find work; this despite a global demand for the skill and a firm commitment from the South African government to spend millions on public work projects specific to the power generation and petrochemical sectors, positions which require certified welding skills.
Fine tuning the complexities in bridging the current unemployment gap and securing the future of welding, the SAIW is set to leapfrog the global pandemic lockdown and play a positive role in employment and skills upliftment.
Read More ›
SAIW LAUNCHES ITS 'ASK THE EXPERTS' WEBINAR SERIES
Last week the SAIW held its inaugural 'Ask the Experts' lunchtime webinar. This first session in the series came about as a result of discussions with our members, who often face the dilemma when sourcing welders for projects of many welders but not enough of the right skills. We, therefore, began the webinar with a discussion about the
scarcity of quality welding skills in South Africa and what can be done to rectify this but went on to several other pertinent questions. Click here to read a selection of answers with a link to the full webinar.
Read More ›
HOT OFF THE PRESS - BURSARY OPPORTUNITIES
The SAIW is proud to announce the launch of two student training bursaries worth R120 000 each. These will allow worthy students to gain access to our internationally-recognised welding courses
with the potential for them to follow career paths across the globe!

The course will run for 26-weeks from the 30 November 2020.

Applicants will need to tell us in 300 words or less,
Why they want to become a welder?

Why would becoming an international welder be important to them?

How this bursary will change their lives?
Send us your written motivation via an email to info@saiw.co.za or drop off your written application at our premises at 52 Western Boulevard, City West, Johannesburg.

Note, all transport and accommodation costs will be for the winners' own account and appropriate health as well as physical and mental capacity is required to participate in the training courses that will form part of the Bursary.