"Welding has a way of taking hold of you, until it becomes part of who you are" – Robert Thomas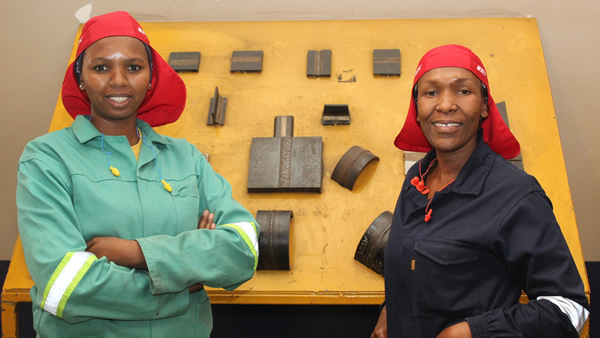 Puseletso Lillian Motlokoa and Thumeka Mbonelwa are brilliant bursary students who are completing their internationally recognised Practical Welding course, a 30-week program that results in a highly sought-after International Institute of Welding (IIW) Diploma.
Lillian from Sharpeville went to Sasolburg College to learn how to weld for three years after matriculating. Pursuing her career aspirations, she then completed a Level 4 Welding qualification from 2014 to 2017. In 2017 she was immersed in on the job training for a year at Arcelor Mittal. "This was very different from what I learned at college and I was introduced to welding sub-arc and stick welding." Loving the challenges the course provided she says she gained incredible confidence and felt incredibly empowered.
Thumeka completed high school in the Eastern Cape and after a few years, started an electrical course at Witbank College Campus in 2005. She says, "Welding chose me and when I started learning how to weld I truly found my passion."  She loves solving problems, working with her hands in practical applications. In 2014, she passed her Level 4 in theory and practical welding and was chosen as an apprentice with  South African Nuclear Energy Corporation (Necsa). "I purchased a welding machine at home and did odd jobs at households and then a company in Secunda recruiting for Sasol Power Station had my application and I was given a job. I was jumping for joy." She is now thoroughly enjoying her course with SAIW.
Dennis Bell the lecturer says "They are fantastic students and incredibly dedicated to their work. We start work in the workshop at 7am each morning and leave at 3pm. We've even ordered them each a new set of overalls with SAIW branding and names."
THE BENEFITS OF IIW TRAINING
| | |
| --- | --- |
| | The IIW programme provides a combination of theoretical knowledge and high-level practical skills assessed by tests of increasing difficulty and by theoretical examinations. |
| | The programme is presented at three levels – fillet, plate, and pipe welder. Trainees must start with fillet welding and must pass a practical competency test before progressing to the next level. |
| | Training periods for practical welding vary from person to person. Experienced welders do not have to undertake unnecessary practical training and may enter the IW programme at any level subject to completing the relevant level practical qualification test including those needed for lower levels. |
| | A welder fully competent in fillet, plate and pipe welding would undertake the practical test for all three levels and would then undertake only the relevant theory components. |
It is important that at each level there is an associated level of theory, plus there may be process- and material-specific theory modules that are applicable.
*To find out more email info@saiw.co.za