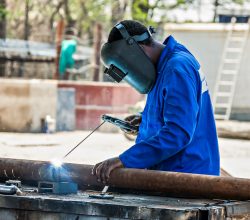 From Minister Blade Nzimande's speech on Friday 30th April, "We have decided not to resume with campus-based academic activity, including all universities, TVET colleges, both private and public, during level 4 lockdown period. The only exception will be the controlled return of clinically-trained students, mostly medical students."
The SAIW has thus taken the decision, in line with the letter and spirit of the law, to remain closed to students at this time.
Trade and Industry minister Ebrahim Patel also said on Friday 30th April that there is no fixed time-frame for the country to move from the current level 4 of the government's lockdown strategy to level 3 as this would depend on the level of infections and the readiness of the health sector to cope with the coronavirus cases.
The SAIW will therefore continue to closely monitor the situation and in the next few weeks, we will prepare for the reopening of our workplace through deep cleaning, risk assessment and introducing the necessary hygiene and PPE protocols in line with government regulations.
Although the situation remains very fluid, we are tentatively planning to reopen the SAIW on 1 June and then to open for students on 8 June. This is totally dependant on when we move from level 4 to level 3.
We will keep the website updated and personally let all our registered students know of any changes to these plans.
Please contact liz.berry@saiw for any further information.
SAIW Certification will have to operate under restricted travel conditions, probably until October. However surveillance audits will continue remotely.
Please contact kimberleigh.vandermerwe@saiw.co.za for any further information.
Until then, stay at home and stay safe.
Team SAIW