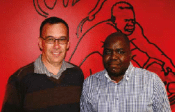 New SAIW Executive Director
Sean Blake, known to all connected with the SAIW in any way for his sterling efforts in managing the day-to-day operations of the Institute, says that he is delighted to have been given the opportunity to take over the reins at the Institute.
"Of course, following in the footsteps of Jim Guild is not an easy task. He did a brilliant job. When, at the end of 2000, he took over as executive director of this Institute there were all sorts of problems and when he retired 14 years later the change was remarkable. Today the SAIW is the leading welding training organisation on the continent and its courses are recognised internationally; it has more than doubled its training population and has earned the respect of the global welding community."
"So the question is: where to from here?," Sean says. "The answer is that no matter what the state of an organisation is, new goals have to be set and the management team has to continue to strive for continuous improvement in all its areas. If one doesn't do this one moves backwards and I and the board of directors and the entire management team will be working together to ensure that we continue moving forward."
"I am fully aware that when long-serving and successful leaders leave an organisation there is always a 'nervous expectation' of how the new incumbent will handle the job. People have got used to a certain management style and change is always difficult.
"I can assure all the team and all those connected with the SAIW in any way that, through discussing our collective vision for the future and implementing the relevant actions, we will, as a team, continue building the Institute on the firm foundation that has been set."
Those who know Sean have little doubt that he will do this successfully in his usual calm and collected manner.
Sean was born in Germiston in 1970 and after attending Dinwiddie primary and high schools he went to Wits in 1989 where he obtained his B.Sc. (Eng.) specialising in metallurgy and materials engineering and physical metallurgy. He attained first class passes in several subjects each year of this degree.
In 1994 he received a diploma in Quality Auditor Training from Technikon Pretoria and in 1999 obtained a Marketing Management Certificate from the IMM.
On his way to working for the SAIW, where he started in July 2009, Sean worked in various technical positions at Highveld Steel (1992 – 1995) and Afrox (1996 – June 2009). He came to the SAIW with strong experience in welding and related technologies and with hard and consistent effort he moved quickly up the ranks starting as project manager on the 3834 Company Certification Scheme, moving quickly onto becoming SAIW technical services manager, then on to general manager operations and now, just under 6 years after starting with the Institute, he is the executive director.
"It is indeed an honour to be selected to lead SAIW into the future. We find ourselves at a difficult time along our journey with increasing socio- economic inequality due to high unemployment, thereby creating churn within society. SAIW has an important role to play in the economic life of South Africa. Welding is at the core of many manufacturing processes and our economy is to a large degree reliant on manufacturing to create jobs locally. There is a dire shortage of skills within the welding sector with many of these skills being imported from overseas countries to meet the demand. Ideally, we should be skilling South Africans to fill these positions. SAIW has training programmes that have been internationally developed and are recognised internationally, which can assist with bridging the skills gap which we have in this country," says Sean. "The SAIW is committed to assisting industry to create employment opportunities with the appropriate skills training and support services for a better life for all in South Africa. Welding can make a meaningful contribution in this regard."