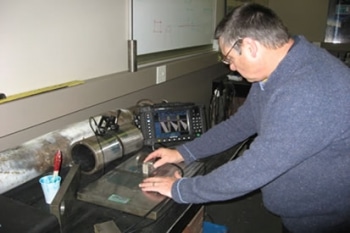 NDT Offers Excellent Career Opportunities
13 July 2011
NDT Offers Excellent Career Opportunities
The Southern African Institute of Welding (SAIW) says there are excellent career opportunities in the field of Non Destructive Testing (NDT) and it is important that young people get to know about this.
"Starting at a basic level, young people can very quickly become certified and earn a living in NDT," says SAIW executive director Jim Guild.
In fact, with just a Grade 10 certificate one can start the certification process which is needed to secure employment. "For someone just entering the field we would suggest, as a first step, becoming certified in the two main surface test methods, Penetrant Testing (PT) and Magnetic Particle Testing (MT),' says NDT Lecturer Mark Digby.
"To become certified at Level 1 for each test method, one week of training has to be undertaken and then the trainee needs just a month practical experience to gain certification. This means after only 10 weeks a candidate could start earning around R80 per hour."
There are also other courses like Ultrasonic (UT) and Radiographic (RT) testing, which require maths and science at a matric level. The training for these courses is a little longer but, on completion, earning power is also greater.
"What is more, there's a serious shortage of NDT personnel and from the moment you are certified you have an excellent chance of securing a job with stability" Digby says.
Jim Guild adds that one should not be afraid of NDT. "It offers great career progression opportunities from level 1 to level 2 and eventually on to level 3 in each test method. Level 3 practitioners carry significant responsibilities but they are senior technical people and their remuneration opportunities reflect this".
Of course, as one progresses, the subject matter becomes increasingly complex, but there are many examples of people, with only a school certificate from the formal education sector, who have gone on and progressed to Level 3 by applying themselves wholeheartedly to improve their NDT knowledge.
"Sometimes there is the perception that SAIW is only focused on welding, but NDT is an essential complementary technology used to ensure the quality and integrity of welded fabrications. It's also widely used in other fields like castings, forgings and almost anywhere where the safety of metal needs to be checked.
It is true that to develop the infrastructure required to train NDT takes time as it is an inherently costly exercise. But the SAIW is now able to invest and grow this aspect of its business and we look forward to seeing a lot more people, the young and the more experienced, on our NDT courses," Guild concludes.
For more information about a career in NDT please phone Mark Digby on 011 298 2100.