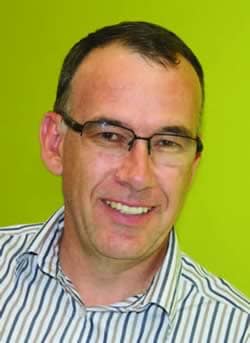 Message from Sean Blake
Welcome to the first Fusion of 2018, the SAIW's 70th anniversary year.
It is certainly a poignant moment for this Institute to have been in business for this long. Over the years we have made a difference to thousands of people whom we have taught the skills to get
proper jobs in a wide variety of industries. This is something we can be truly proud of.
A recent survey shows that over 75% of the people who graduate from the SAIW gain employment within a few months of graduation, which is a truly remarkable statistic, especially in the tough economic times that we have been facing in the past decade or so.
Moreover, the research showed us that the overwhelming majority of our students are satisfied with the way in which the SAIW relates to them and how we conduct our business in general.
Of course, there were some constructive criticisms which we have taken note of and we will be doing our best to continue improving on the world-class service that we provide to our students and to the South African and African welding industries.
Thank you to all those who participated in the survey and congratulations to our prize winners Kevin Xaba and Angelin Mmamosa Mmota.
Over the years the SAIW has been replete with stories of courage and determination. One of the most recent is SAIW Foundation graduate King Mufamadi who was so determined to succeed he initially offered his services to a local company for no pay. Today he is lecturing at the SAIW. An inspirational story for any young person wanting to get ahead in our country. (see more inside)
On the question of the SAIW Foundation we are undertaking a most exciting project which is the QCTO 'dual' apprenticeship system that combines technical education and simulated practical training at the SAIW with authentic work experience at a fabrication facility. We urge companies to read about the scheme in the article on the left of this one and to respond favourably. Our country needs you!
And we need our country! Political instability, corruption and a general lethargy from 'the top' have contributed significantly to a lack of growth in South Africa. This has affected the number of infrastructure projects coming on stream, which has, in turn, negatively impacted our welding industry and the SAIW.
But the latest developments can give us all hope and we urge President Ramophosa to vigorously put in place the people and the mechanisms to get our economy going so that young people will have more opportunity to get meaningful jobs including, of course, in the welding industry. Welding is an enabling technology which has the ability to provide meaningful work opportunities.
In the meantime, we must all play our part. We cannot absolve ourselves of the responsibility to play our own individual part in South Africa's recovery. Each one of us must contribute, to our fullest potential, in order to succeed.
Finally, please note that as part of our 70-year celebrations we have decided to print a Fusion newsletter every two months. Each edition will be slightly shorter than normal but the idea is that we will increase our overall level of communication with you about the Institute and the welding industry in general. Enjoy your reading!
Sean Blake