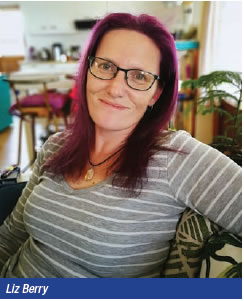 Meet the Team – Liz Berry
We'd like you to get to know the SAIW better so you can see what we do and how well we do it. There's no better way than through the stories of our people. Please meet Liz Berry, Western Cape Area Representative.
The name Liz Berry has become synonymous with the Cape Town branch of the SAIW, which she has formally managed since 2014. Originally, through a colleague at Oerlikon South Africa (OESA), where she was working at the time, she joined the CT SAIW committee. It wasn't long before Jim Guild asked her to manage the CT branch on an informal basis. The rest is history.
Liz was born in Queenstown, Eastern Cape and attended Queenstown Girls High.Immediately after school, like all sane young women, she took a gap year ending up farming in Australia for several months. On her return she took a job at a small Cape Town hotel where she remained for eight years. "I did everything there! I was receptionist, accountant, room service manager, dining room manager, you name it. I really enjoyed my time there and because my responsibilities were so diverse, I learnt a lot," says Liz.
During this time a friend of hers from the hotel was offered a job at OESA, which she couldn't take up. She told them that she had someone else perfect for the job – Liz Berry. And so began Liz's love affair with the welding industry.
In 2014 the CT branch was formally opened and Liz was now fulltime! "I've loved working in the branch and even though things are a bit tight at the moment we're doing what we can to keep business going on a strong basis. I have high hopes for the welding industry in Cape Town and this will obviously benefit the Institute," Liz says.
Since having joined the SAIW Liz has completed her Inspector Levels 1 and 2 and has done several courses associated with the IPE qualification.
Liz is married with two grown up kids and she enjoys reading, outdoor activity and gets a great kick out of the natural environment.