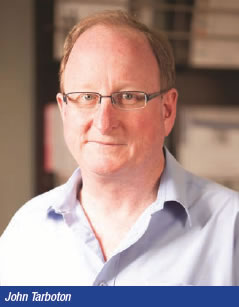 John Tarboton at the helm of the SAIW
The Southern African Institute of Welding (SAIW) is pleased to announce the appointment of industry veteran, John Tarboton, as the association's Executive Director.
Leveraging many years of experience in the stainless steel industry, Tarboton is responsible for driving the association's vision of promoting world-class excellence in welding.
In his new role, Tarboton is responsible for the day to day administration of the SAIW, leading the people, as well as maintaining and developing the SAIW as the leading national body for welding.
Tarboton takes over from Jim Guild, who occupied the position for the past few months on an interim basis after Sean Blake, executive director for the past four years, had left the institute a few months ago to further his own interests.
An experienced metallurgical and materials engineer, specialising in stainless steels, Tarboton has many years of experience in the research, development (laboratory, plant and customer) and technical marketing of new and improved products, as well as technical customer services of existing products, applications and fabrication.
Tarboton spent 24 years at Columbus Stainless, where he held several positions, including engineer in training, senior metallurgist for R&D, R&D engineer and senior market consultant, among others. He later joined the South Africa Stainless Steel Development Association (Sassda), where he spent the last six years of his career. He joined Sassda as sectoral manager: fabrication,  welding and technical advisor in May 2013, before he became executive director in September 2014, a role he occupied until his recent move to the SAIW.
"I have had a very interesting career, from being part of a team doing ground-breaking research to market development, customer services, and then association management.
It has given me a broad background to be well equipped to take on this new role. However, this is certainly a daunting challenge but I believe we have an excellent team that is more than capable of driving our vision of promoting world-class excellence in welding, NDT and related technologies," says Tarboton.
Commenting on some of his immediate areas of focus as the new executive director of the SAIW, Tarboton says the institute has done phenomenally well over the years but there is always room for improvement. "In the short term, we need to improve customer service as far as course administration and the delivery of courses is concerned. At a later stage we will need to ensure quality assurance of the courses themselves. We need to delight our students in the whole SAIW experience as we equip them for a career in welding," he says.
Tarboton also adds that the development of a regional presence in Mpumalanga, probably with the Steve Tshwete Local Municipality Local Economic Development committee, will take immediate priority. "In the long term, we need to increase our membership and develop an engaged membership. This will allow industry to work closer with the SAIW and to better utilise all our products and services for the good of SAIW and for the good of our industry," he adds.
Tarboton alludes to the fact that he comes at a time when the industry is grappling with an array of challenges. He is of the view that the wider fabrication industry is under immense pressure and over the last five years or so, has shown contraction, year after year. He believes that there is also no immediate prospect of things improving.
"The slowdown in public infrastructure spending and falling private sector capital spending is contributing to the lack of demand. In addition, growing public debt has slowed growth by increasing the cost of capital. Inefficiencies of State Owned Corporations, and high administered prices are both leading to a deterioration in the competitiveness of South African fabricators. The expected uptick in economic growth next year should lead to a marginal increase in demand which should filter through to our industry.
However, for now, the metals fabrication industry remains in survival mode," concludes Tarboton.