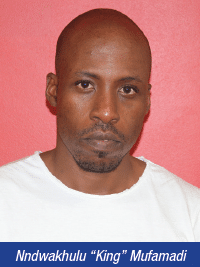 Hail to the King …
…. SAIW Foundation student on the rise
There are some stories that simply inspire. Nndwakhulu "King" Mufamadi's is one of those! Today he is a Welding Technologist lecturer at the SAIW but just a short while ago he was working for no remuneration at Metal Protection and Engineering (MPE) just to get experience.
"I wanted to get ahead and I had no practical industry experience in welding," King says. "I had the choice to either go back home to Limpopo and scrape by or to do whatever I could to get some experience. I chose to move ahead with my life and volunteered my services for free at MPE."
As it turned out this was a brilliant career move. Not only did it give him the opportunity to gain welding experience but it was one of the deciding factors in the SAIW Foundation giving him a bursary to get his Welding Technologist diploma, which he completed in 2016.
In 2017 King was offered a paid job at MPE where he worked as a welding supervisor and coordinator until the beginning of this year when he took up the position of a Welding Technologist Lecturer at the Institute.
"It's an incredible story," says SAIW executive director Sean Blake. "It shows that there's nothing one can't do in life given the right attitude and motivation. Not only has King sacrificed a great deal to achieve what he has, but he has also gone far and beyond everyone's expectations. From such humble beginnings, and in a relatively short space of time, he has become a lecturer in an
important subject in a globally recognized institute of learning, the SAIW."
"I am so happy to be teaching here at the Institute," says King. "My main interest in life is knowledge transfer. I get a real kick out of teaching others what I have been fortunate enough to learn. I feel I am making a real difference to other peoples' lives and this gives me a sense of purpose in my own," he says.
King is somewhat of a workaholic but really enjoys keeping fit. "I'm a bit of a gym freak but to give of one's best one has to be in good physical shape."
Well done King. The SAIW is proud of you.