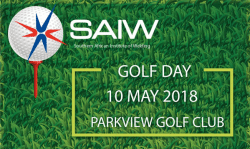 ___________________
GOLF COMPETITION
___________________
The golf day will take place at Parkview Golf Club and the competition will be a Fourball Alliance with 2 scores to count on all holes.
The first tee off will be at 11h00.
Click here to view more details about Parkview Golf Club
Cost :  R500.00 per player – R2000.00 per fourball (excl VAT)
Includes :
Green fees, halfway house and dinner
Golf carts, caddie fees and drinks.
Golf Carts
Cost : R400.00 per cart (Excl VAT)
Bookings of golf carts MUST be done with Kim Stevens – kim.stevens@saiw.co.za or call 082 855 4070.
There are 50 golf carts available and booking is on a first come first served basis.
Cost of golf carts will be charged by invoice payable to SAIW.
Booking of golf carts are on a first come first served basis
Caddie Fees

R160.00 per caddie plus R40 for halfway house, plus R15 caddy fund
______________________________
SPONSORSHIP OPPORTUNITIES
______________________________
Sponsor of a Green/Tee – Cost : R500.00 (Excl VAT)
Recommended Holes :  1st, 2nd, 5th, 9th, 16th and 18th
Golf Prizes
4 x prizes for either Winners, Runners Up, Third Placed, Fourth placed  and Most Golf Played
1 x Prize for Longest Drive
1 x Prize for Closest to the Pin
Any form of prizes would be most welcome.
______________________
PRIZE GIVING
______________________
Prize giving and dinner will take place at 17h30 for 18h00.
Golfers who would like to invite non-players to attend the dinner only will be at a cost of R120.00 per head (excluding VAT)
Click here to book electronically or Download Booking Form and fax to Kim Stevens on 086 639 4277 or email kim.stevens@saiw.co.za for any further information.