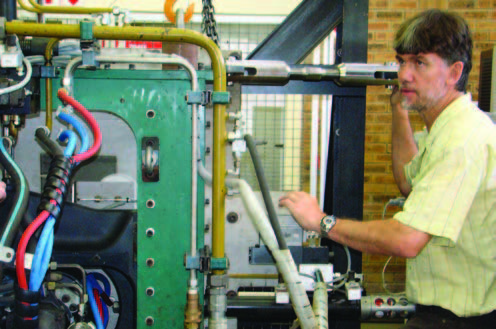 Farewell Philip Doubell … … a welding industry legend
05 December 2017
It is with deep regret that we announce the passing of Philip Doubell on the 27th of October 2017. Philip was an integral part of the welding community and his contribution to the welding industry was enormous.
Philip began his career at Eskom in 1987 where he worked for over 30 years. While at Eskom, he obtained a Metallurgical Engineering degree from the University of Pretoria and then a Masters degree in Welding Engineering from WITS. In 2003 he completed the IIW's IWE diploma – then only the fourth person in South Africa to obtain this highly coveted international qualification.
Philip was well known in the industry for his innovative and 'out of the box' thinking and developed a reputation not only in the South African industry but all around the world for this ability.
Philip developed many new ideas and technologies and holds a number of patents for these novel technologies that he developed including the innovative WeldCore® which he developed together with Professor Danie Hattingh and the eNtsa team from Nelson Mandela University.
Philip was the recipient of SAIW's Harvey Shacklock Gold Medal Award in 2006 and made many technical presentations at SAIW and other welding conferences.
One could always rely on Philip to help where there was a need. He was a key contributor to the Technical Committee for Welding at the SABS and travelled a number of times to ISO meetings to represent South Africa's interests at these international forums.
Philip was an inspiration to many but especially to young engineers who crossed his path whom he helped develop into competent engineers.
Philip is survived by his wife Grietjie and two children Michélle and Müller.
Rest in Peace Philip. You have left a huge void and you will be sorely missed by all who knew you and the welding industry at large.