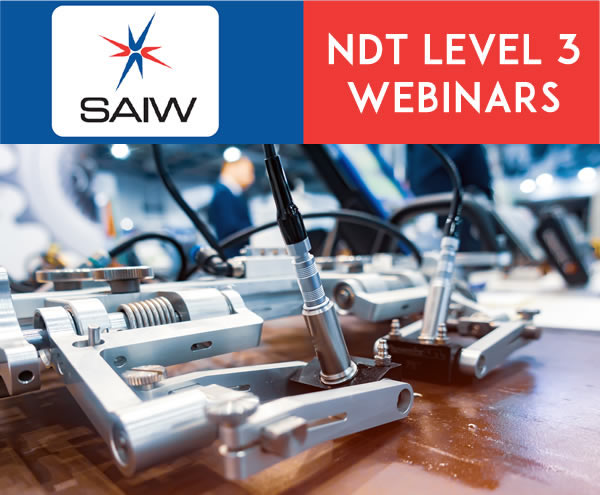 Join us for our new series of FREE NDT Level 3 lunchtime Webinars (12pm) from Friday, 19 March that will give you an exclusive look at some of our most valuable course content.
Each session will be a 'highlights package' of one of the topics discussed during the previous week's Level 3 in-house workshop and will consist of a summarised presentation, followed by a question and answer session.
This will be followed by a formative assessment on request (questions will be sent to students via email).
Webinar topics to be covered include:
19 March:
Completed
NDT Lev 3 Basic : Overview – Why all the fuss?
(Part B: Qual & Cert Schemes)
26 March:
Completed
NDT Lev 3 Basic: NDT for Engineers: Overview
(Part C: Level 2 Knowledge)
06 April:
Completed

NDT Lev 3 Basic: Presented by Dr Manfred Johannes a welding industry guru who has worked for amongst others Eskom and the CSIR in his long career

12 April:
Completed

Main Method: Penetrant Testing 3

16 April:
Completed

Main Method: Magnetic Particle Testing 3

23 April:
Completed

Main Method: Ultra Sonic Testing 3

30 April:
Completed

Main Method: Ultra Sonic Testing 3

07 May:
Completed

Main Method: Radiographic Testing 3

21 May:
Completed

Main Method: Visual Testing 3
TO FIND OUT MORE EMAIL
harold.jansen@saiw.co.za
OR
CLICK HERE
TO REGISTER