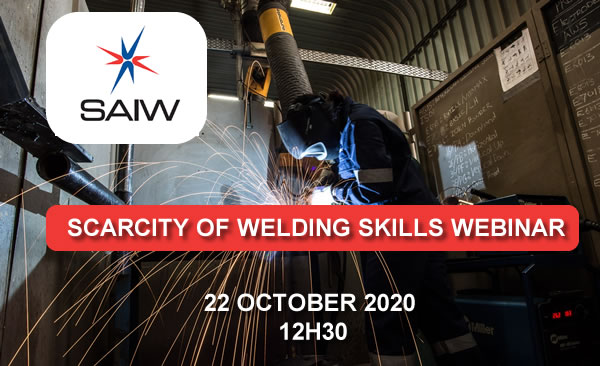 Too many welders, not enough skills?
Despite there being thousands of welders in South Africa; an issue that often faces manufacturers and fabricators is the lack of properly qualified prospective employees.
This follows decades of non-regulated welder training, resulting in many welders but very few who are adequately qualified or competent. Evidence of this, is a 2017 Government study which identified a list of 13 scarce skills, with welding ranked at number two, highlighting the critical need for qualified artisans in this field.
During our FREE lunchtime webinar (Thursday, 22 October 2020 at 12:30 pm) we'll therefore engage in a Q&A session between SAIW experts in their field and discuss the following:
What can be done to rectify the issue of a lack of properly qualified welders in

South Africa?

How to develop a mentality of 'blue-collar is best' amongst school leavers who possess the necessary grades and aptitude to pursue a career in welding

Sectors that hold the most potential for the use of welders in the next 12 -18 months in South Africa and neighbouring countries
There will also be a chance at the end of the discussion for you to engage in an interactive session with our panel of experts.