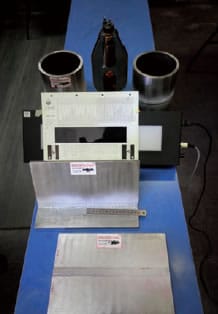 Cape Town RT Interpreter Course
The Institute recently successfully ran the RT Interpreter course at its Cape Town branch in Milnerton with Hugo Vaughn as course lecturer.
Mark Digby explains that the course is intended for welding inspectors or engineering personnel wanting more in-depth knowledge of relevant codes of construction such ASME Section V Article 2 and Section VIII UW 51 and Appendix 4 as well as EN and ISO Codes.
Qualification as an RT Interpreter is a requirement for certification as an Inspector of Pressurised Equipment.
The RT Interpreter course is also offered in Durban and Johannesburg and can be arranged as an in-company course.
For more information on NDT courses running in Cape Town please contact Liz Berry at the Milnerton office on 021 555 2535 or Mark Digby in Johannesburg on 011 298 2120.