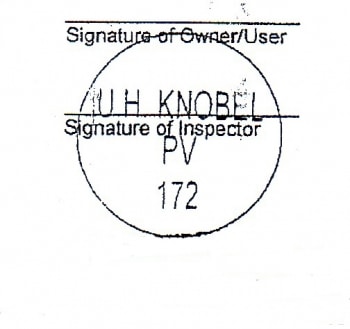 BEWARE THIS STAMP!
This stamp is a fraud! It was used by a Competent Person inspector, Udo Hans Knobel -sometimes known as Mark Knobel – who was certified by SAQCC CP for pressure vessel inspection PRIOR to December 2005. It has recently been seen on pressure vessel inspection documentation issued in 2010.
Mr Knobel s certification lapsed in December 2005 and was not renewed so the PV number 172 is obsolete. Mr Knobel has advised SAQCC CP that his stamp bearing that number was stolen in 2005 and its whereabouts are now unknown to him.
PLEASE BE AWARE THAT ANYONE CURRENTLY USING A STAMP WITH THIS NUMBER AND/OR PURPORTING TO BE A COMPETENT PERSON WITH THIS CERTIFICATION NUMBER IS ACTING FRAUDULENTLY.
YOU SHOULD CONTACT SAQCC CP FOR ADVICE IF YOU HAVE ANY DOUBTS OR QUERIES RELATED TO CP INSPECTIONS PERFORMED AFTER 2005 AND SIGNED OFF BY ANYONE USING THIS NUMBER.