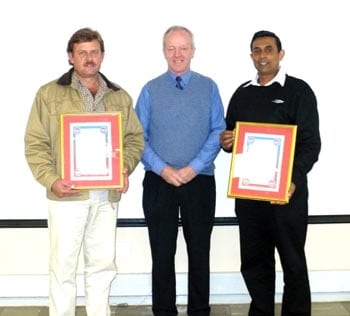 A first for SAIW Certification Scheme
09 November 2009
Group Five Oil and Gas is the first site-based company to be certified to ISO 3834 in accordance with the SAIW Certification Welding Fabricators Certification Scheme.
"GFOG operates under different conditions when compared with factory-based fabricators," says SAIW Certification's John McLeish. "Site-based operations often do not have direct control of the welding procedures, equipment and consumables and associated activities like non-destructive testing (NDT) and post-weld heat treatment used for site construction as these are all generally supplied by the client," says McLeish adding that in the case of Group Five Oil and Gas, these are supplied to them by Chevron.
McLeish says that the result is that there is a tendency to assume that these factors are outside of the site contractor's control and responsibility. "This is a risky assumption because if a failure occurs on the refinery, even as the result of an error on a welding or associated procedure supplied by the client, it is still likely that the contractor would carry the responsibility."
To accommodate this complication, the SAIW Certification auditors adapted the audit focus to concentrate on how Group Five manages the supply of goods and services from its client who is, in effect, the main supplier.
"In turn, GFOG developed their site-based quality system taking into account this situation," says McLeish. "Deviations are referred back to their client and it is this kind of proactive action that not only minimises the risk of costly damages if a failure occurs but also enables GFOG to offer a higher quality service adding value to its client.
Meanwhile at a recent seminar held mainly for end-users, the ISO 3834 standard – the basis for the SAIW Welding Fabricators Certification Scheme – got a resounding thumbs-up from presenters and attendees alike.
One of the presenters, Spencer Erling, Southern African Institute of Steel Construction education director, said ISO 3834 was the ultimate in 'horses for courses' standards. "Fitness for purpose describes its use," he said. "So, if we are building nuclear power stations we will set up and manage the process accordingly, or, at the other end of the scale, if we are making wheel barrows we will set up our welding according to this activity."
One of the main problems of ISO 9000 series standards is that it is more a quality management system and not a process management system. "This, of course, is most pertinent to welding as it is a process – only a part of the whole production system.
"We have to face the fact that welding, which is used for creating the joints for steel structures, needs to be of a high standard to ensure structural competence," said Erling.