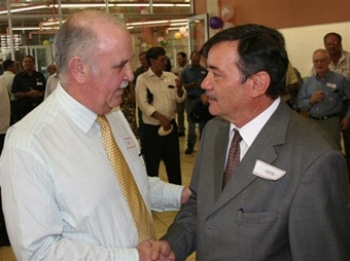 60 Up! Now for the Next 60!
12 July 2009
It was also an excellent networking opportunity for people from the various industries and research establishments to meet and share experiences and ideas. Our thanks go to Richard Fowles and John du Plessis and other members of the organizing team for all the work put into the event. The institute's bi-annual Young Welder of the Year competition was held in February this year. Fifteen young welders under 22 years of age took part in the competition which requires them to weld carbon steel, stainless steel and aluminium projects using four processes.
The competition is well supported by the local welding community and our thanks go to the sponsors. The winner of the competition was Louis Steynberg from East Cape Midlands College in Uitenhage, Louis will get the chance to go and pit his skills with those of young welders from about thirty other countries when he participates in the WorldSkills competition in Calgary, Canada in September. Congratulations also to runner-up Damian Pedro and Nonhlanhla Zulu who became the first female ever to win a major prize. She was awarded South Africa's Best Young Welder in the Carbon Steel Category.
It was not only at the Young Welder competition where women welders shone! At the recent successful Awards Dinner held at Southern Sun OR Tambo International there was a plethora of young females who received their Inspector Level 1 certificates. They too reflect the widening appeal of welding as a career for young people of both genders.
From a financial perspective I'm pleased to report that the institute remains in a healthy situation despite some challenges regarding continued sponsorship. However, more than 80% of our net income is self generated and steady progress has been made in building the reserve funds of the Institute to the level set as a safety margin by Council. Thus, in view of the high proportion of internally generated income, which is a clear testament to the efforts and success of the management and staff of the SAIW, particularly in view of the generally adverse financial climate, our financial worries are few.
Much of this internal revenue is obviously generated from education and training and I'm pleased to report that Training numbers on Institute courses in 2008 were high and in some cases at record levels.
Many organizations are finding a serious shortage of skilled people and the institute is faced with similar difficulties in recruiting suitable personnel. But SAIW is serious about expanding its capability to meet the growing need of the rail, power generation, structural steel and petrochemical and refinery industries by strengthening the skills of its staff. In view of government's plans to spend hundreds of billions on infrastructure in the next few years and in view of skill shortages in the market the Institute is well positioned to make a significant contribution to capacity building through its education and training programmes.
The Institute's Technology function, under John Du Plessis, continues to make a far ranging impact in an increasing range of industries. Work is being undertaken in most regions of South Africa and in surrounding countries in fields as divergent as mining, ship-repairs and automotive components. The development of the function is progressing well and an additional consultant has been employed to help grow this important side of the Institute's business. Enquiries and opportunities extend well beyond the borders of South Africa.
SAIW Certification has now been operating since the middle of 2005 and has taken over all of the Institute's examination and certification activities. The independent board of directors, is ably led by Chairperson Prof. Madeleine du Toit from Pretoria University and Deputy Chairman Morris Maroga from Eskom. I am very pleased to report that this year SAIW Certification beat our financial expectations and made a small net surplus on operations. We had expected that the company would need on-going funding from the Institute for a few more years but this now appears not to be the case.
During the year good progress has been achieved with the SAIW/IIW ISO 3834 quality certification programme for welding fabricator companies. We believe the certification scheme will become an integral component of quality requirements for local supply of fabricated equipment and will support the efforts of companies in the export market.
In conclusion I would like to thank all the Council members, as well as our executive director, Jim Guild, and the SAIW staff, for the support I have received and for their contributions to the Institute. The management and staff of the Institute are its cornerstones and I would like to commend them all for their loyalty and efforts this past year. There have been challenges in the past 60 years and we've overcome them. I'll have no doubt that SAIW will overcome the challenges it is to face in the next 60! Andy Koursaris