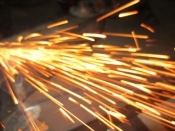 A Closer Look at Careers in Welding
31 March 2015
WHAT'S IT ALL ABOUT?
Welding, the process that's used to join materials together, is one of the coolest ways to earn a living – just look at those spectacular sparks!
If you've ever wondered about how to get into a career like welding, if you're already working in the industry and want to bump up your skills and qualifications, or even if you're just exploring all the amazing options open to you as a recent school-leaver, the Southern African Institute of Welding is the place to be!
We'll be exploring the ins and outs of the welding industry through a series of articles set to answer all your questions, so stay tuned to our website and Facebook page to learn all about it.
What do we offer?
By now you know that the Southern African Institute of Welding exists, but do you know about the many exciting courses that we provide? We teach much more than just how to weld, and offer different programs that are designed to prepare our students for varied positions in the welding industry.
If being hands-on and involved in the process is where you thrive, then our courses in Practical Welding or International Welding are for you.
Practical Welding is a program that can be geared to meet your individual needs as a student, whether you are a total beginner or a seasoned pro looking to improve in a specific area.
The International Welding program is, of course, internationally recognised and equips students with the skills to succeed in both the local and international welding industries. The programme has three different levels which the student progresses through, namely Fillet Welder, Plate Welder and Tube Welder. The programme is specific to each welding process. Experienced welders may also enter the programme without undertaking the full programme.
If you are more concerned with safety requirements and quality checks, our various welding technology and inspection courses will catch your eye. We offer training for basic and senior welding inspectors, which has a practical and theory component ensuring skilled and competent graduates, and run a welding safety course that's useful for welding supervisors and safety officers. You can also take courses that build on your knowledge as an international welding practitioner, specialist, or technologist in which you are taught various skills that will make you an invaluable asset to the international welding industry.
And if none of those courses get you excited, then we also offer a selection of other programs as varied as pressure equipment regulation, heat treatment for engineering, and process plant inspection.
The Southern African Institute of Welding really does cater to every aspect of the welding industry!
What about after your studies?
Well, all of our courses are designed to comply with international standards, developed under the guidance of industry-based committees, and presented by qualified and experienced lecturers. Our training facilities include a practical welding school with individual state-of-the-art welding bays, and you will also spend time in our fully-equipped classrooms and NDT laboratories.
What all of this means is that your studies at the South African Institute of Welding are the best possible preparation for working in the actual field of welding – whether that is on the ground as a welder, or ensuring people's safety as a supervisor or safety officer, and everything in between!
Our International Institute of Welding approval as a training body ensures that you will be well set to enter both the local and international welding industries and start your career with a flash.