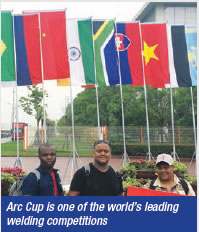 SAIW Member of the Arc Cup Organising Committee
Yet another accolade of significance has come the SAIW's way!
At the recently-held Arc Cup in Shanghai, China the Institute was asked to become a member of the Arc Cup organising committee and the SAIW readily agreed!
"Not only is this a wonderful honour for the Institute but it also makes sense as this competition is becoming increasingly central to our international welding activities," says Etienne Nell, SAIW new business manager.
Nell is referring to the fact that the SAIW has recently become a signatory to the International Alliance for Skills Development Belt and Road including BRICS (IASDBR), which aims at incorporating all the countries in this region –
including several African countries, China, Russia, India, Ukraine and many more – in a cooperative initiative to provide welding training to the youth.
He says that this puts the SAIW on centre stage in terms of welding in the developing world.
"We will be upping the ante in terms of finding South African youth to participate in the Arc Cup. Obviously we will be using our own Youth
Challenge competitions as a source and we also hope to host a series of mini competitions throughout the country specifically for the Arc Cup which would have the dual effect of training young people, through international experience, to do well in the SAIW Youth Challenge," Nell concluded.