ISO 3834 Company Certification – Assuring Quality Product
ISO 3834 is certainly one, if not the most important Welding Quality Management systems during the fabrication process in the welding fabrication industry. That much we would all, especially the end users of weld fabricated products, agree. To ensure the proper quality of welded product and to optimise the manufacturing cost, it is set out in the ISO 3834 that the whole welding process must be controlled from the very start. The main aim of the ISO 3834 implementation at a manufacturing company is to build quality into the product and not to subject the product to in-depth inspections to approve the product. One of the major benefits of a successfully implemented and maintained system is the cost saving because of initial compliance to the relevant specifications without any additional rework that has to be performed. Rework can cost up to 4-5 times the initial manufacturing cost. To ensure that quality welded product is delivered every time, it is strongly recommended that the company implement a welding quality management system such as the ISO 3834 system.
Below are companies that have recently received their ISO certification from the SAIW Certification, which is accredited by the International Institute of Welding (IIW) as well as SANAS for company certification.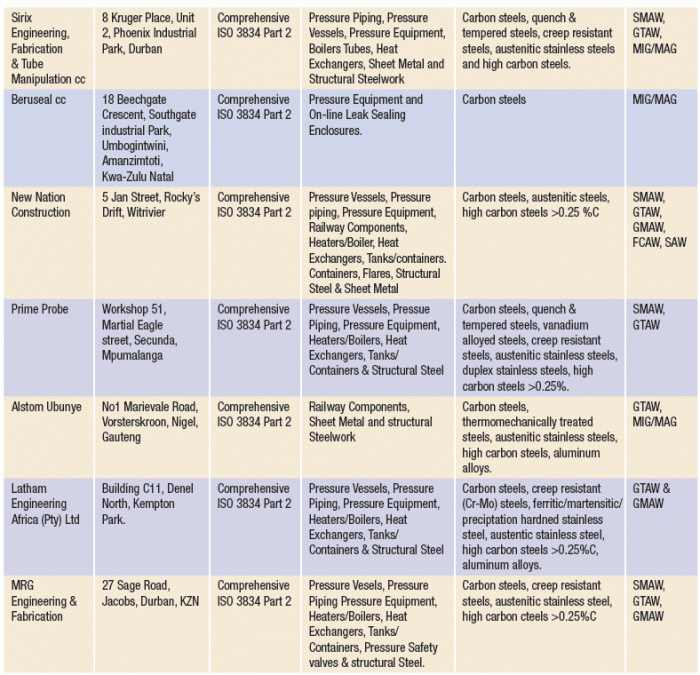 Want to know more about ISO 3834 implementation? Get in touch with Kimber-leigh van der Merwe; Company Certification Co-ordinator at the SAIW, on 011 298 2109 (Direct) or email her on Kimberleigh.vandermerwe@saiw.co.za